Newest Videos
Random Videos
Newsletter
Learning english to get a job


This is a funny way of looking at the unemployment problems of the country.


Back to origin
You can only vote for a content once a day.

Other Videos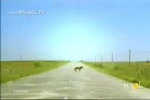 Lucky guy
Sometimes all you need is a little faith, and a lot of luck as this video shows.
Uploaded: 2007-06-28
Comments:
You must be logged in if you want to post a comment.