Newest Videos
Random Videos
Newsletter
Dumb guy applying fo get a job


Sometimes people are just so dumb that they themselves dont know it.


Back to origin
You can only vote for a content once a day.

Other Videos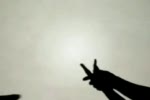 Hands shadows commercial
Really cool commerical. It is done with the shadows of hands and arms.
Uploaded: 2008-01-23
Comments:
You must be logged in if you want to post a comment.