Newest Videos
Random Videos
Newsletter
Dumb guy applying fo get a job


Sometimes people are just so dumb that they themselves dont know it.


Back to origin
You can only vote for a content once a day.

Other Videos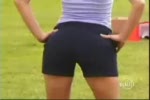 Sexy golf lesson
Golf instructor teaches his students more than just putting lessons
Uploaded: 2007-07-23
Comments:
You must be logged in if you want to post a comment.