Newest Videos
Random Videos
Newsletter
Not get kicked by the cop


Chris Rock explain how to not get kicked your ass by the police.


Back to origin
You can only vote for a content once a day.

Other Videos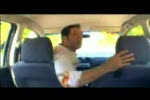 Parking paint job
Park your car in true art form when having trouble finding a parking space
Uploaded: 2007-07-12
Comments:
You must be logged in if you want to post a comment.