Newest Videos
Random Videos
Newsletter
Funny Dog and Screen Door
| | |
| --- | --- |
| Contributor: Admin | Category: |


The dog is so used to the screen door that he doesn't understand that there is not screen or glass.


Back to origin
You can only vote for a content once a day.

Other Videos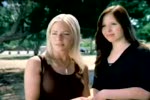 Love is complicated
A guy speaks for himself and two girls about love and seagulls
Uploaded: 2007-08-07
Comments:
You must be logged in if you want to post a comment.