Newest Videos
Random Videos
Newsletter
Drunk Russian Riding Bike
| | |
| --- | --- |
| Contributor: Admin | Category: |


Wow this guy is way to drunk. I bet he was sore the next day.


Back to origin
You can only vote for a content once a day.

Other Videos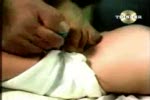 Good daddy
A model daddy multitasks with his baby by changing nappies while surfing the net
Uploaded: 2007-07-10
Comments:
You must be logged in if you want to post a comment.