Thinking and sinking makes a big difference for this foreign guy


Back to origin
You can only vote for a content once a day.

Other Videos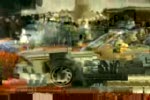 Wrong technology, wrong time
The wrong technology at the wrong time can really be embarassing as show in the video.
Uploaded: 2007-10-05
Women Runs into Glass Door
This would be embrassing, but I'm sure she was in to much pain to care.
Uploaded: 2008-05-01